At all of our 190 stores across the UK we're accepting unwanted clothing, textiles, bags and footwear from any brand, in any condition. So if you're due a wardrobe sort out or you've got clothes that you can't repair, reuse or perhaps no longer fit, we'll take them off your hands and prevent them going to landfill. We'll even accept towels, bedsheets and pyjamas too! Simply pop your clean and washed unwanted products into one of the labelled donation boxes in your local store and we'll send them off for sorting where they'll be given a new life.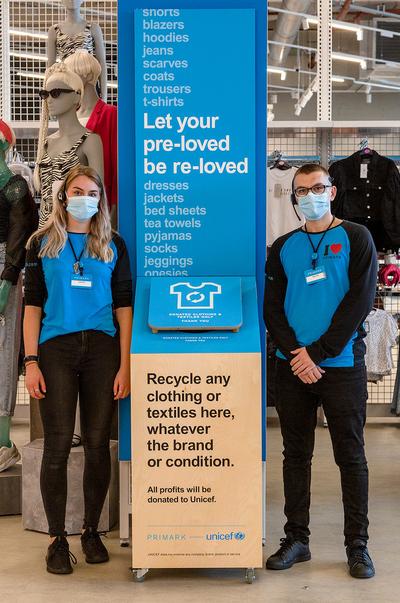 We've partnered with Yellow Octopus, a recycling specialist that diverts around one million garments from landfill every month! Once you place your pre-loved items into one of our blue donation boxes the contents will be taken to our distribution centres where they will be collected by Yellow Octopus and sorted at one of its network of depots. Yellow Octopus aim for as many donations as possible to be worn again with the remainder repurposed into new products such as toy stuffing and insulation.
All of the items collected in Primark stores will be recycled or repurposed if they can't be reused and all profits will be donated to our charity partner, UNICEF.
The funding will support UNICEF's global work on education; helping children go to school and learn, regardless of who they are, where they live or how much money their family has.
In 144 countries around the world, UNICEF works to provide learning opportunities that prepare children and adolescents with the knowledge and skills they need to thrive. That includes making sure that children learn in a safe, friendly environment and with qualified, motivated teachers.
Key areas of UNICEF's work include providing equal access to all children, including those who have disabilities or are marginalized, and improving learning and protection for children who are caught up in emergencies or on the move.